"Wellspring Floral did an AMAZING job on our florals for our wedding. Morgan was so easy to work with - fast and efficient and really helped me hone in on what aesthetic I wanted for our wedding. She even gave me a great idea for an arbor installation that I was able to have one of our good friends build. The floral she designed for that installation was AMAZING. The flowers and accoutrements she did completely elevated the look of our ceremony and reception and tied everything together. And her prices were very fair. Flowers were fresh and lovely. Can't recommend Wellspring enough." ~ Sarah P.
"Wellspring Floral was absolutely amazing! Morgan was very easy to work with and was very talented at taking our wedding vision and bringing it to life! We were amazed at what she was able to do with all of the flowers we wanted and keep it within our budget. We would highly recommend them to anyone." ~ Conor E.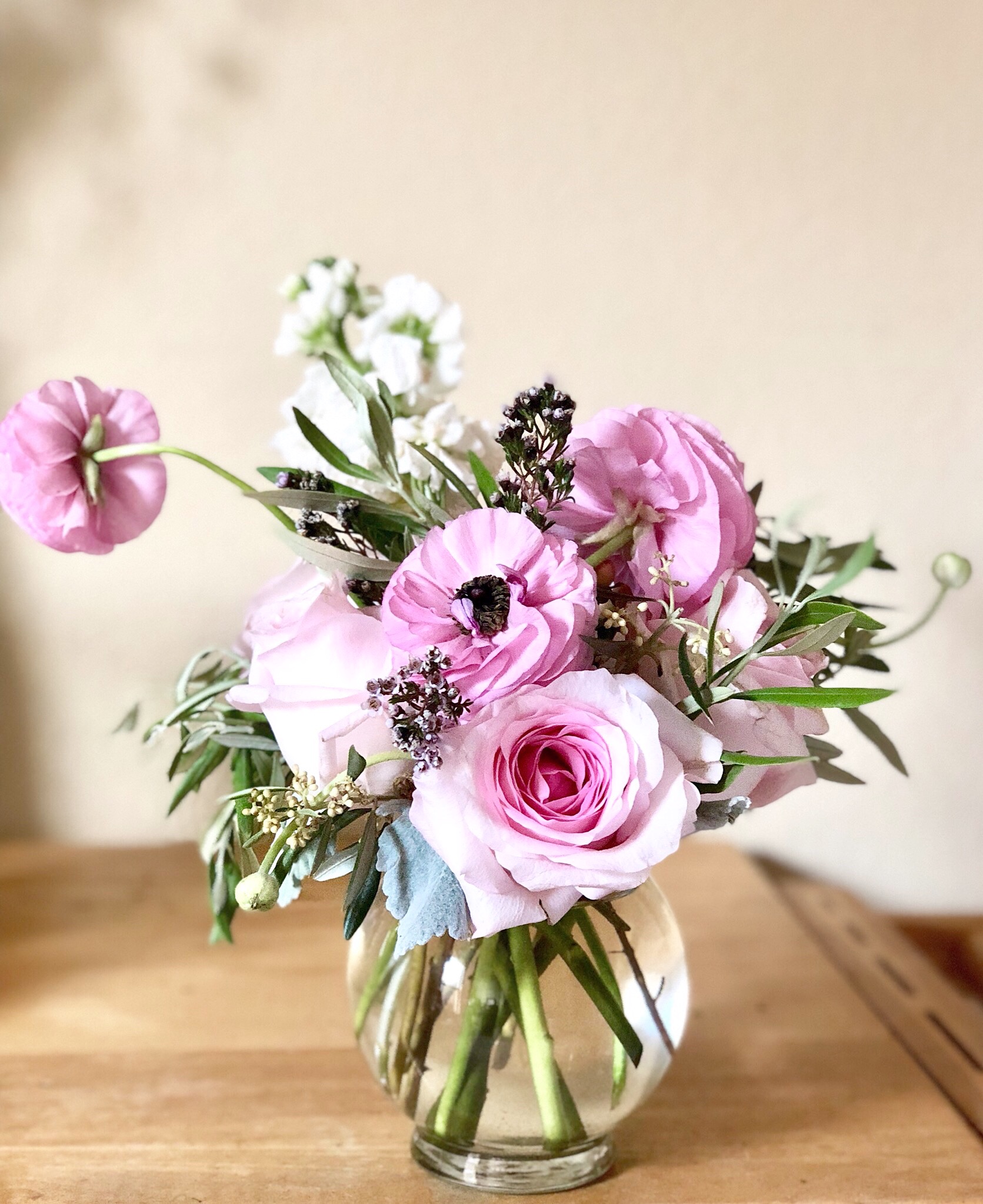 "My favorite part of this experience was hearing the excitement in my mom's voice when she told me she had received her flowers! The arrangement was thoughtfully crafted and whimsically elegant. It was such a unique and stunning arrangement that my mom could not stop gushing about it to friends and family." ~ Alison L.
"My husband forgot to tell me it was his mother's birthday, so I needed a gift that would get to her quickly, as we live on the West Coast. Morgan had just started her business and I decided to ask her to make a floral arrangement for his mom for the next day. She literally went over the top to create not just a floral arrangement but a beautiful piece of art. It was simply gorgeous. I know his mom was so touched and so was I. I will be using her services in the near future!" ~ Valerie C.
"I have been lucky enough to have a couple amazing Wellspring Floral experiences. First was at my baby shower where Morgan at Wellspring made several centerpiece arrangements. She perfectly executed arrangements that went with the decor and her flowers truly made everything come together. My husband also ordered the most amazing bouquet from Morgan when I delivered my baby girl. All the floral arrangements I have received from Wellspring have been nothing short of gorgeous. Morgan takes the time to create something memorable for each of her clients. Her attention to detail sets her apart. Each time my arrangements lasted several days. I would highly recommend Morgan at Wellspring Floral to any of my family or friends for their next event or need for floral services."
~ Amy B.
"I've had two great experiences with Wellspring Floral. My husband had her make me a birthday bouquet and she took his vague description of what I would like and made it into a beautiful bouquet that was perfectly me. She also was easy to work with to figure out a delivery time around my sleeping baby.
The second time I asked her very short notice (like a day or two before!) to make my mom a bouquet for her birthday, and she was quick to agree and made an amazing flower arrangement that was delivered on time and beautiful (and affordable.) Do yourself a favor and work with Morgan of Wellspring Floral!" ~ Katie C.
"Morgan is a truly talented and creative woman! I've had the pleasure of receiving several floral arrangements from Wellspring Floral and I've been so blown away by the thoughtful touches and beautiful flowers in each one. Morgan listened to my ideas and turned them into amazing works of art. I especially love how each arrangement is unique and whimsical. I would highly recommend her to anyone!" ~ Alyssa A.
Photos by Ann Mark Photography, Patrick Remington Photography, Morgan Elliott, Amy Dyer, Morgan Elliott, Katie Cornett and Morgan Elliott, respectively.